He died Thursday morning [November 12, 2020] at the Korle Bu Teaching Hospital (KBTH) in Accra, family sources confirmed to Graphic Online.
Mr Rawlings had been on admission at Korle Bu for about a week for an undisclosed ailment.
Graphic Online gathers he felt sick after his mother's burial about three weeks ago.
Mr Rawlings was born on June 22, 1947.
His mother, Madam Victoria Agbotui died in September 2020 at age 101 and was buried on October 24, 2020, the last time that Mr Rawlings was seen in public.
Mr Rawlings' father was Scottish whilst his mother was Ghanaian.
Background
Mr Rawlings, as a military man, led an unsuccessful coup d'état against the ruling military government on May 15, 1979.
He was arrested and detained.
Whilst in detention, his compatriots organised themselves and released him.
They succeeded in the second coup attempt on June 4, 1979.
He and his compatriots supervised elections in 1979 and handed over power to Dr Hilla Limann who was elected President in the 3rd Republic.
U-turn
However, on December 31, 1981, Mr Rawlings in a U-turn ousted Dr Limann's government and as the Chairman of the Provisional National Defence Council (PNDC), he ruled Ghana till January 6, 1993.
He resigned from the military as a Flight Lieutenant and was democratically elected President of Ghana from January 7, 1993 to January 6, 2001 after being re-elected in 1996.
He handed over to former President John Agyekum Kufour after his two-term limit of eight years in office - four years per term.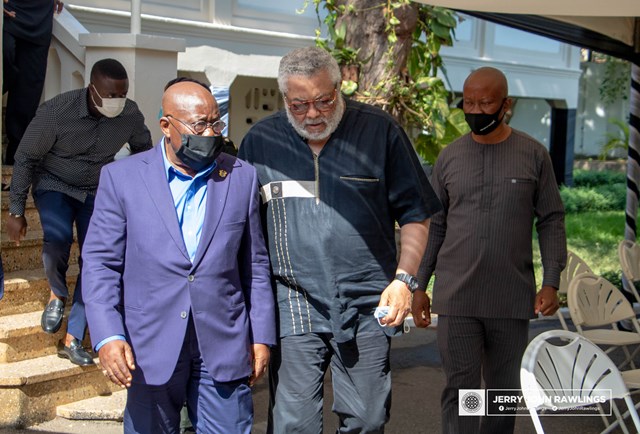 Source: Graphic Online