A 19-year-old student who excelled at the West African Secondary School Certificate Examination (WASSCE) has been denied admission into the Kwame Nkrumah University of Science and Technology (KNUST) Medical School.
Pius Kyere, who graduated from St James Seminary and Secondary School in the Brong Ahafo Region, scored straight As in all eight subjects, including his electives – Physics, Chemistry, Biology and Mathematics.
Pius was shortlisted for an interview process for admission into the Medical School, but it would seem Pius Kyere could not pass the oral examination.
Pius is currently reading his second choice programme, Doctor of Optometry, at the KNUST.
"I could not make it with A1s in all my subjects," he said.
Below is Pius' WASSCE result.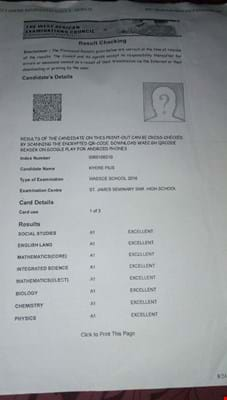 Meanwhile, Messers Kyere has been adjudged the best WASSCE graduate – making him the best secondary school graduate in all of West Africa.
Pius Kyere revealed on the Super Morning Show on Joy FM Monday that during the interview process, he was asked among other things, to state what Alex Fergusson -- former Manchester United manager -- does on the pitch.
The issue has generated a lot of furore on social media, with commentators condemning the Kumasi-based university for what they describe as a warped selection process.
Social media comments that have not been verified by Myjoyonline.com also suggest that there are medical students who could not make the cut-off point of aggregate six for the Medical School but are currently offering Medicine.
Pius Kyere, however, says he has not given up.
"I will reply again," he has vowed.
The University Relations Officer at the KNUST, Kwame Yeboah Jnr, explains that Pius Kyere's situation came about because the medical school received more applications than it could admit.
He admits that although Pius' results are impressive, the university resorted to the interview process because it wants to give an equal opportunity to other qualified graduates to be selected.
Source: GNA